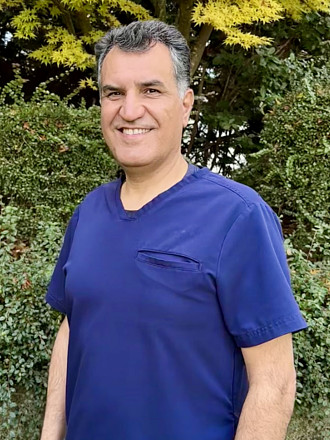 Reza Aran, DMD, MSc
Certified Specialist in Orthodontics and Dentofacial Orthopaedics
In Practice
Orthodontics is my passion: it gives me a great feeling of being creative while helping others and seeing the amazing change a new smile has on each patient. Transforming a person's smile brings a lot of joy and happiness, for the patient and our great team!
Our office focuses on patient needs and comforts to ensure the best orthodontic care and outcome. Utilizing the latest technologies, including digital X-rays and a digital scanner for impression-free diagnostics, allows us to provide a full range of orthodontic services for children, teens, and adults.
Along with our advanced services, we have a well-experienced, professional, and happy team. They consider our patients to be family and care for each with compassion and warmth. We all love what we do and are excited to come to "work." Every day is an exciting new day for all of us: we will see new patients start their treatment journey and celebrate as others finish, feeling happy and excited, with a smile they really love!
Education and Experience
I grew up in the southern part of Iran and graduated with a Doctor of Dental Surgeon degree from the University of Shiraz in Iran. After moving to Canada, I completed my doctorate of Dental Medicine (DMD) at the University of British Columbia.
After practicing as a family and cosmetic dentist from 1996 to 2010, I returned to school at UBC. There I obtained a Master of Cranio-facial Science (MSc) and became a Certified Specialist in Orthodontics and Dentofacial Orthopedics.
I have now practiced orthodontics since 2010 and have loved every day in this profession. I am passionate about creating beautifully healthy smiles, improving people's self-confidence, and being a part of each person's wellbeing and happiness.
I am particularly passionate about the effectiveness and comfort of Invisalign® clear aligner therapy. Providing this innovative treatment, which is convenient and aesthetically discreet, to children, teens, and adults is exciting. I have many years of experience with these aligners and can successfully treat even complex cases.
Professional Affiliations
Distinctions:
Diplomate of the American Board of Orthodontics
Fellow of the Royal College of Dentists of Canada
Member of:
Beyond the Office
I believe in balance in my life. When not practicing orthodontics, I prioritize time with my family. I'm married and have two children who are both completing Post Secondary Education, my daughter is attending Med school and my son is attending UBC.
Outside of being with family I enjoy community activities, hiking, camping, and traveling. I'm also a long-term supporter of the Tri-City Iranian Cultural Society. I believe a healthy community is fundamental to a healthy society and want to be an active contributor to making this a stronger and better community for all.