We recognize that all of our patients are unique and deserve to receive orthodontic care that reflects their individual needs. Our experienced and talented team is committed to working with you and your family to create a comfortable, stress-free, and rewarding orthodontic experience every time you visit our practice.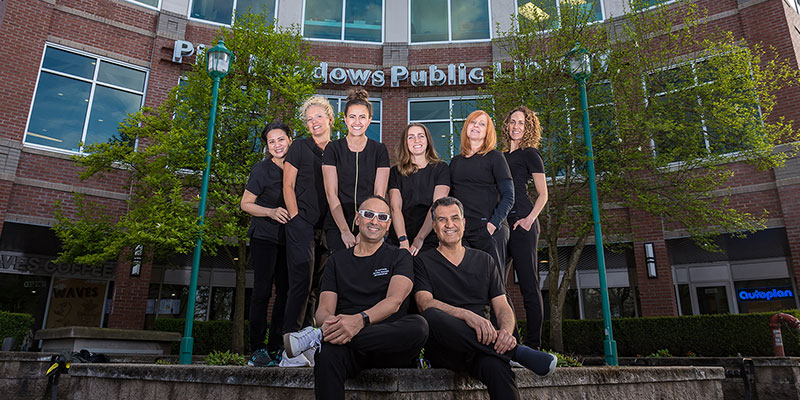 ---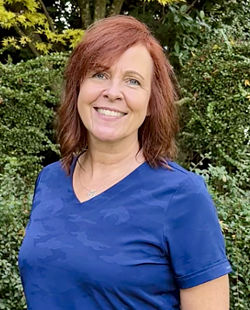 Amii
Office Manager / Certified Orthodontic Dental Assistant
I started my career in the oral healthcare field in 1990 and joined Pitt Meadows Orthodontics in 2017. As our office manager, I organize office operations and procedures, cultivate company culture, and steer the ship in the right direction. I enjoy making the office a positive and inclusive environment where everyone feels supported and welcome!
Away from work I very much enjoy the outdoors. I have two dogs and we often hike together. I also like cycling along our local trails.
---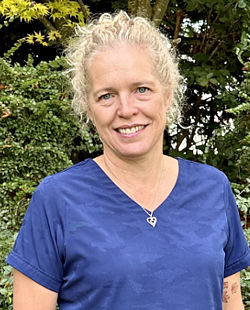 Michelle
Treatment Coordinator / Certified Orthodontic Dental Assistant / Management
I started out as a Certified Dental Assistant in 1991 and for some of that time I worked with Dr. Aran in general dentistry. As my kids got older, I was looking for more of a challenge: I came back in contact with Dr. Aran and he encouraged me to pursue orthodontics. I love it! In 2015 I joined Pitt Meadow Orthodontics and handle a wide range of responsibilities. In addition to working with patients in the clinic, I take part in consultations and financial plans with patients, provide clinical management, and oversee correspondence with doctors and patients. I love interacting with patients and getting to know them. It is really fun to see how excited they are when they see their new smile!
My husband Claudio and I grew up in the Okanagan and met in high school. We have two adult children and two fur babies who are both rescue dogs. We love to be outdoors and do a lot of walking. We also love watersports during the summer and skiing in the winter.
---
Michelle C.
Certified Orthodontic Dental Assistant
I joined the dental field in 2011 and was welcomed to the Pitt Meadows Orthodontics team in 2017. In addition to assisting the doctors and providing patient care I offer a lot of dental hygiene guidance, education, and encouragement. It is important people keep up with their home care so their finished smile is both beautiful and healthy!
Apart from being a dental nerd and loving to teach hygiene, I am also in love with animals, being outdoors, and being mom of three wonderful kids. We have a micro hobby farm with mason bees, chickens, fish, and cats and I love to garden and cook healthy meals for our family. I also love to bake for our family and friends to show how much we appreciate them. One day we would love even more land for our future farming dreams.
---
Mandie
Certified Orthodontic Dental Assistant
I started my career in 2011 in general dentistry and fell in love with orthodontics. In 2019 I jumped at the opportunity to join Pitt Meadows Orthodontics, as this is an amazing office! I work with patients to achieve their best smile, from starting records to treatment through to retainers. While I love all aspects of my career, it's the ongoing relationships I build with patients that mean the most to me. It's my job to make everyone's orthodontic experience fun, so people feel confident, excited, and educated!
My husband Evan and I have been married since 2014; he's my favorite person in the world. I enjoy most activities when shared with family or friends. Whether it's movies, board games, dancing, or reading, I just want to do it in the company of those I love.
---
Dani
Scheduling Coordinator
I joined the oral healthcare field in 2011, was a Certified Dental Assistant, and was welcomed to Pitt Meadows Orthodontics in 2018. As our scheduling coordinator, I handle booking appointments along with patient and insurance financials. It's rewarding to watch our patients' transformations. It's not just their smiles: their self-confidence grows and they hold their heads a little higher. Being part of their smile journey is why I wanted to be part of an orthodontic team!
I live in Pitt Meadows and love this community! I enjoy sports and was an avid volleyball and softball player growing up. When I'm not at work I'm usually with my children, trekking them to their sports games and taking in any sunshine we can soak up.
---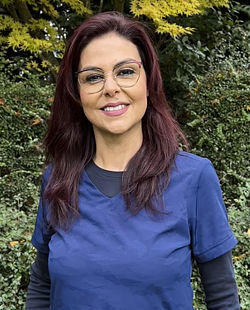 Nazanin
Chairside Assistant
I love working for this great team, they are professionals who also happen to be kind and patient people! I help the doctors with room and instrument preparations and am on hand during procedures to ensure our patients feel safe and relaxed at all times.
Waiting patiently for me to get home is my dog, Koby, for our daily walk together. My favorite sport is yoga and I enjoy traveling whenever I can.
Nicole
Certified Orthodontic Dental Assistant
I joined the healthcare field as a Certified Dental Assistant in 1994. Over time, I went on to pursue orthodontics in 2007. I'm so happy helping patients achieve their beautiful smile and the journey from start to finish is why I love my job!
I live in Maple Ridge with my husband and we have two older daughters. Our other child is our Bichon Lui dog who keeps us busy!
In the summer we enjoy walking, bike riding, and in the winter, we love to ski and watch movies.