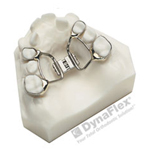 Expander
The palatal expander "expands" (or widens) your upper jaw by putting gentle pressure on your upper molars each time an adjustment is made. Your orthodontist will instruct you about when and how to adjust your expander. When you achieve the desired expansion, you will wear the appliance for several months to solidify the expansion and to prevent regression.
---
Space Maintainers
A space maintainer is a fixed appliance that preserves space in the lower dental arch. Acting as a "space maintainer," this appliance keeps the lower molars from moving forward, where they might block permanent teeth from erupting.
---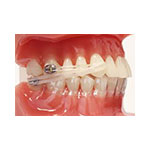 The Carriere® Motion 3D™
The Carriere® Motion 3D™ Appliances are used to correct either an overbite or an underbite. Traditional treatment for this type of occlusion can include headgear, surgery, and extractions, all of which are eliminated by the non-invasive, sleek, and aesthetic Motion 3D Appliances.
---
Forsus™
The Forsus Fatigue Resistant Device is an alternative to headgear which promotes growth in adolescents, helping to eliminate excessive overbites, improve the fit of teeth, and possibly prevent the need for jaw surgery.
---
Twin Block Appliance
The twin block appliance is unique from other functional appliances, as it involves two separate appliances (one for the upper arch and one for the lower arch) working together to create an advanced lower jaw position. This patient-friendly appliance is worn full time, including while eating, though it is removable for easy hygiene. It is also more comfortable than other jaw-correcting appliances, as it is made out of smooth acrylic and utilizes fewer wires.
The result of using a twin block appliance is a broad, beautiful smile, proper jaw function, improved profile, and a stable and healthy temporomandibular joint.